Menu
The Spectator Hotel
The Benefits of Booking Direct
Lowest Rate Guaranteed
$10 Daily Hotel Credit
Welcome Drink Upon Arrival
Craft Cocktails
DUDE, WHERE'S MY CARDAMARO? | 14.00
Montelobos Mezcal | Cardamaro | Fig | Xocolatl Mole Bitters
RIGHT PLACE WRONG TIME | 15.00
Corazon Blanco | St George Spiced Pear | Lime | Cinnamon | Allspice
CURIOUSER & CURIOUSER | 15.00
Bruichladdich | Benedictine | Suze | Tarragon-Ginger Honey | Fresh Lemon Juice
THE DUDE IMBIBES | 14.00
Chai- Vanilla Cathead Vodka | *Carolina Cream Liqueur | Almond Milk | Espresso-St George Coffee Liqueur Ice Cube
SPLENDID CHOICE | 14.00
Nippitaty Gin | Sage-Plum | Lemon | Sparkling Rose
ROCKET SURGERY | 15.00
Bulleit Bourbon | Byrrh | Amaro Ramazotti | Tempus Fugit Crème de Cacao | Mole Bitters
WELL PLAYED | 14.00
Brown Butter Washed *Striped Pig Spiced Rum | Smoked Maple Syrup | Black Walnut Bitters
HASTA MANZANA | 14.00
Patron Silver Tequila | Liquor 43 | Apple Cider-Fall Spice Blend | Fresh Lime Juice
YOU KNOW YOUR JUDO WELL | 16.00
Spectator Hotel Elijah Craig Single Barrel Bourbon | Shochu | Sweet Potato | Cinnamon-Muscovado | Fee Bros Old Fashioned Bitters | Cardamom Bitters
SEASONAL MOCKTAIL | 8.00
Cranberry | Apple | Ginger-Tarragon Honey | Lime | Club Soda
---
Classic Cocktails
DESHLER | 14.00
*Virgil Kaine Rye | Dubonnet | Cointreau | Peychaud's Bitters
SLOE GIN FIZZ | 13.00
Plymouth Gin |Plymouth Sloe Gin | Fresh Lemon Juice | Club Soda
CORPSE REVIVER No.2 | 13.00
*Jasper's Gin | Cointreau | Lillet Blanc | Fresh Lemon Juice | Absinthe Rinse
GOLDEN CADILLAC | 12.00
Galliano | Crème de Cacao | Cream
LION'S TAIL | 14.00
Elijah Craig Bourbon | St Elizabeth Allspice Dram | Fresh Lime Juice | Angostura Bitters
CHAMPAGNE COCKTAIL | 12.00
Primaterra Prosecco | Sugar Cube | Angostura Bitters
MARY PICKFORD | 13.00
Topper's White Rum | Luxardo Maraschino | Pineapple | House Grenadine
MONTE CARLO | 14.00
Templeton Rye | Benedictine | Fee Brothers Aromatic Bitters
PISCO SOUR | 13.00
Pisco Porton | Fresh Lime Juice | Simple Syrup | Egg White | Angostura Bitters
BLINKER | 14.00
Bulleit Rye | St George Raspberry Liqueur | Fresh Grapefruit Juice
* Local Product
---
PLEASE NOTE: THERE IS ALSO A LARGE SELECTION OF WINES AND BEERS
BAR FOOD
CLASSIC CHEESE AND CHARCUTERIE | 19
Trio Fromage | Cured Meat | Honey Comb | House Pickled Accoutrements | Dijon
SPECK TATERS | 14
Fingerlings | Speck Ham | Boursin- Roasted Garlic Crème Fraiche
BBQ SHRIMP FLATBREAD BRUSCHETTA | 17
Arugula | Tomato Onion Salad | Balsamic | Tartar Aioli
*VEGETARIAN 13
BABA GANOUSH | 12
Warm Flat Bread | Holy Smoke Olive Oil | Eggplant
ROASTED AND COZY | 11
Cashews | Pecans | Pistachios | Spices
MACARONS | 3
Assorted Seasonal Flavors | Christophe Artisan Patisserie
The Bar
The exuberance of the Jazz Age meets warm Southern charm in our Prohibition-style bar. Make yourself comfortable on a green leatherback stool, allow our cocktail artisan to conjure up a 1920s inspired refreshment, and indulge in a sophisticated selection of bar food like you've never experienced before—all at our debonair Charleston hotspot. The Bar also serves fine wine and beer. Discover why The Bar at The Spectator Hotel was recently named a Top 5 "Best Hotel Bar" by USA TODAY.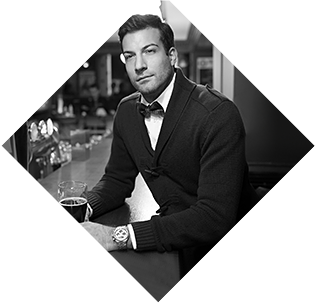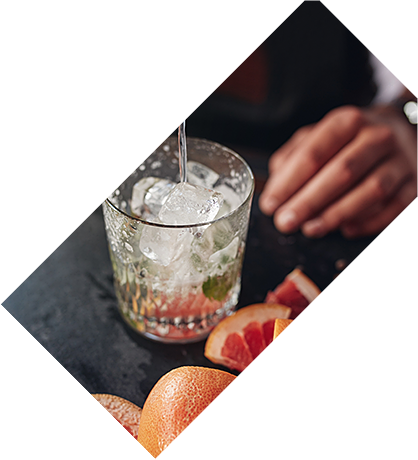 Meet our
COCKTAIL ARTISAN
Passionate and inventive, Cocktail Artisan Allen Lancaster serves up artful cocktails packed with seasonal southern flair.
"There are a myriad of flavors within the food world that can be used within Prohibition era cocktails. With my culinary background, food is a key component that has directly influenced the creative side of the style of cocktails I've crafted at The Bar in The Spectator."
Hours
Sunday - Thursday

 3 pm - 10 pm

Friday & Saturday

 3 pm - 11:30 pm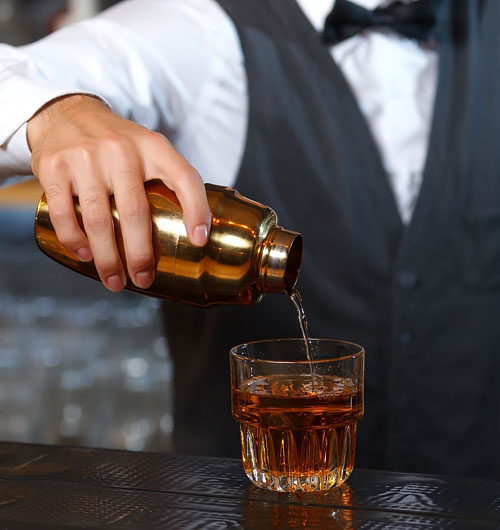 Culinary Offerings
On the Menu
Experience a refined twist on classic bar food offerings, such as our roasted and cozy small plate of deluxe nuts and spices or an indulgent treat of BBQ Shrimp Flatbread Bruschetta.
Kitchen Hours